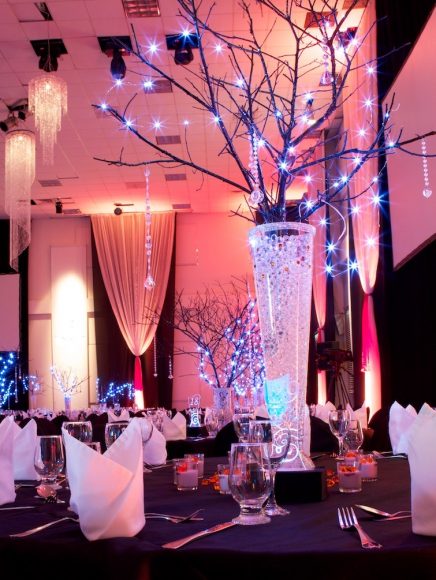 Don't get me wrong, I absolutely love flowers but sometimes having them as a significant part of your décor is not feasible especially if you have a limited budget.   Not to worry though, there are still fabulous things that you can do or in this case use to make a statement.  Check out these economical ideas to make great centerpieces that will have your guests talking.
Candles, candles and more candles
Candles are a perfect go to if you aren't using flowers and it helps immensely that they come in various sizes, shapes, colours and scents.  Once lit, candles can create the perfect ambiance for your event. You have the option of grouping candles on a mirrored surface tied with twine or ribbon to coordinate with your colour scheme.  Add a little more drama by scattering a few crystals or rose petals (they don't have to be real) on the glass. Floating tea lights (smaller candles) in large fish bowls with water is another simple but beautiful way to use candles.  Add a touch of drama by colouring the water with food dye. Another great way to incorporate candles is to place them in ornate candelabras strung with some bling or use thick tall ones covered with hurricane shades.  A simple but elegant option for square or rectangular tables is to place votive candles on a glass running the length of the table interspersed with some greenery (cut a few bunches from your hedge or your neighbours

.
Utilize Dry Branches
This idea is very inexpensive to create and chic once completed.  Take dry branches and paint them in a colour complimentary to your colour scheme (or use as is) and place in a tall vase containing craft beads.  To jazz this look up, string the branches with crystal and fairy lights or votive candles (check out the image above).  Alternatively, you can add small artificial blossoms to give an enchanted forest feel.
Dessert as Your Centerpiece
I am totally in love with this concept and the fact that it is edible takes the cake (pun intended). Everyone loves dessert and to make it the centerpiece is totally brilliant.   For a little bit of whimsy, select beautiful apothecary or bell jars and fill them with chocolates and various types of candy and use as your centerpiece.  Add some drawstring organza bags (available in a variety of colours and sizes) or a plain paper bag (also available in a variety of colours and sizes) and scooper for guests to build their own favour bag.  Alternatively, you can use ornate tiered dessert displays to showcase mini cakes, truffles, tarts or any other sweet treat.  Your guests will totally love this centerpiece.
A picture is worth a thousand words.
Well in this case a picture frame.  Use beautiful ornate or sleek picture frames in a variety of sizes clustered together as your centerpiece.  It could contain a photo, poems or fabric.  The fun of this is that the picture frame is dual purpose and can be used as a favour for your guest.
I hope these examples were helpful. The one thing to be remember when you are putting together your next centerpiece is to BE CREATIVE.