The Lloyd Erskine Sandiford Centre (LESC) formerly known as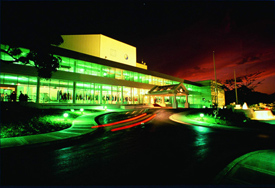 Sherbourne Conference Centre is the largest stand-alone conference facility on the picturesque island of Barbados.   Established in August 1994, this meeting venue quickly became the premier conference venue in the Caribbean and has been duly rewarded over the years for its quality service and versatile facilities. These include the 'Caribbean's Leading Conference Centre' by the World Travel Awards (2003-2006 & 2009) and the 'Achievement of Excellence – Support Services' by the Barbados Tourism Awards 2009.
Barbados Conference Services Limited (BCSL) is the management company for LESC and offers premium event management services both remotely and offsite. We have had the privilege of providing conference services for several Heads of Government meetings including the 12thAfrican, Caribbean, Pacific (ACP) – European Union (EU) Joint Parliamentary Assembly and the Ceremony for the Signing of the EPA between Cariforum & the EU to name a few.  LESC also successfully hosted FOROMIC which was held for the first time in the English speaking Caribbean and organized by the MIF and Government of Barbados, in addition to the Kiwanis International Eastern Canada and Caribbean District Convention.
Our dedicated team of professionals with years of event planning/hosting experience stands committed to providing a modern event space and delivering quality service to all clients through our commitment to excellence.